Saturday, May 25th, 2019 | 9am - 4pm
Join us in Creemore, ON for a truly unique bike tour. Inspired by the vintage rides of Europe, Turas Mór – meaning 'Great Journey' in Gaelic - is a cycling journey on gravel and non-gravel roads through the rolling hills of Creemore.
For seasoned riders to first-timers, there's something for everyone.
Photos from previous events can be viewed here!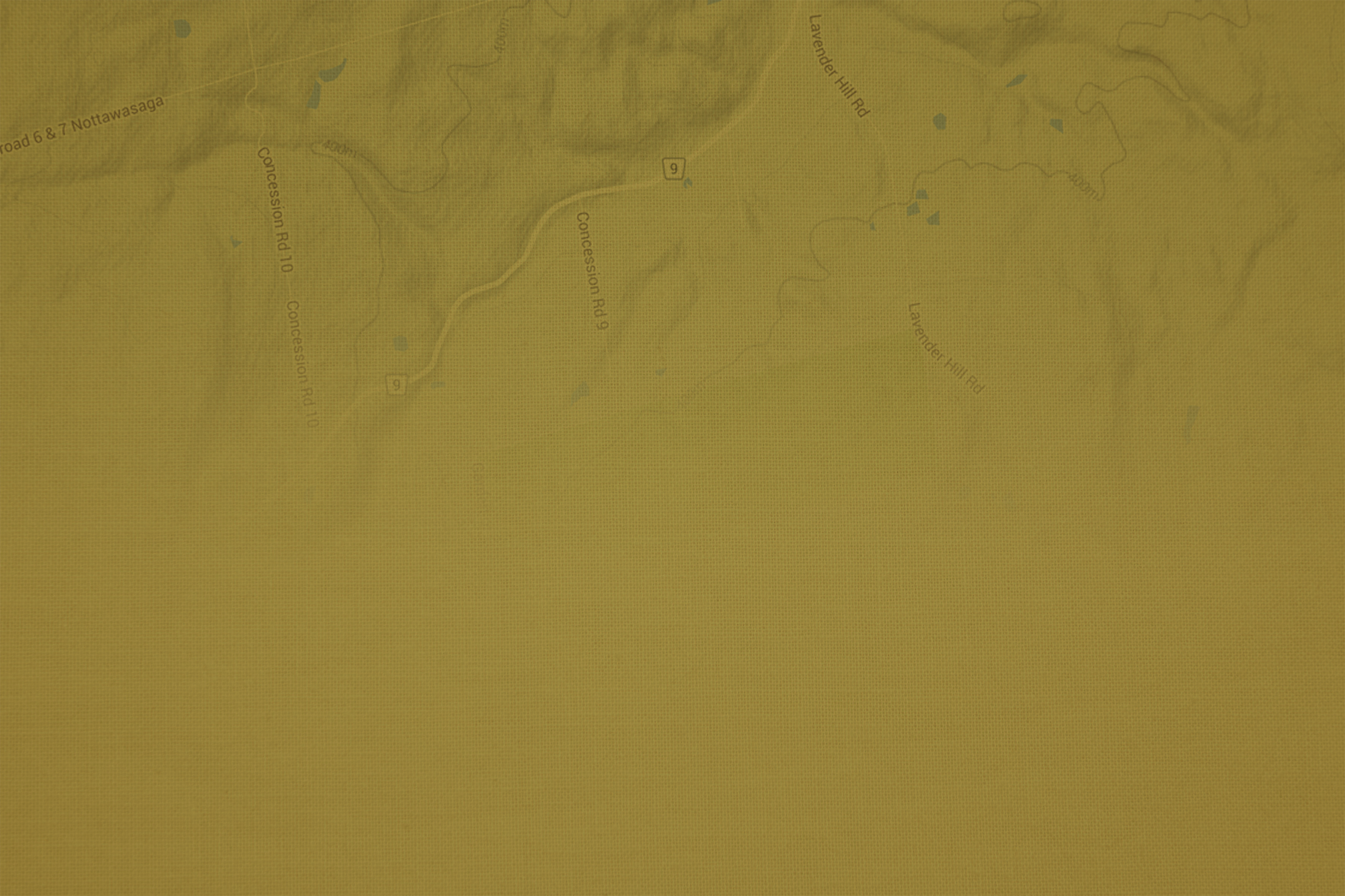 The Route
We have tweaked and added routes for our 2019 ride.
For the past three years, cyclists have made the trek to the quaint, charming Village of Creemore, Ontario to brave the elements and ride the scenic, yet challenging hills in Clearview Township. 2019 will not be any different!
The event will happen, rain or shine. Be sure to bring a spare tube, pump, patch kit and weather-appropriate gear. In our inaugural year, we experienced sleet & snow making the climbs & terrain even more grueling – so be ready for anything. Mechanical support is limited – so all riders must be self-sufficient. Helmets are mandatory. All riders 19+.
Vintage kits & heroic rides are optional & encouraged (and look fabulous! There are prizes to be won for best vintage ride & kit).
This year, we have created 3 routes: 20k, 40k and 60k. Cyclists will experience the challenge & the beauty of our rolling hills, gravel & non-gravel roads, the beautiful countryside of Clearview Township and small town hospitality from start to finish.
We encourage folks to take their time, enjoy the view and be sure to stop at designated rest stops along the way.
2019 routes:
An updated "Cruiser" – 20k leisurely ride
This route is relatively flat with a few small hills on paved roads. It takes you out & back to the beautiful hamlet of Glen Huron. Perfect for beginners & intermediate riders looking to kick off their 2019 season.
The new 40k "Challenger"
This route is difficult and a challenge for intermediate riders as well as seasoned cyclists.The climb out of Creemore on the way to Terra Nova is long and hard and is approximately 15km. Once in Terra Nova, folks can stop and refresh at the Terra Nova Public House before enduring another climb, making their way back thru and down Lavender Hill. The roads are a mix of gravel and non-gravel up until this point. If interested, riders can enjoy a quick water break in Dunedin before winding their way back into Creemore via County Road 9 - an easy ride on paved roads.
The "Classic" 60km expert ride
This route hasn't changed much since inception in 2016, but it does change year over year based on the weather. We've had sleet & snow and extreme heat and folks should be ready for anything. There are 4 tough, steep climbs: as the rider makes their way from Creemore to the first rest stop in Terra Nova; just outside Terra Nova to Lavender Hill; up Sideroad 6/7 to the second rest stop (the New Farm); and just when you think you've made it, you're hit with an equally legendary climb up 15/16 Sideroad to Fairgrounds before descending into Creemore. This route is predominantly gravel terrain – with lots of good ruts, mud if wet, and sometimes sand. We encourage accomplished intermediate & advanced cyclists to register for this ride.
Please note, there are now two water stops along this route: one in Dunedin at the Church before the Sideroad 6/7 climb and again at Giffens Country Market in Glen Huron (but this stop is located on a rapid descent, where we've often heard folks who stop lose momentum for that final 15/16 climb).
All registration fees include light food & refreshments at designated rest stops & a hearty post ride lunch. As well, there are 2 water stations located at the Dunedin Church & Giffens Country Market.
Rules of the road MUST be obeyed at all times unless otherwise directed by Police. Police will be located at all major intersections or turns. First responders will be following the ride.
For route or technical support questions, please reach out to MultiSport Canada at (705) 797-4951 or email info@multisportcanada.com
The Ride
Registration Opens - 8:30am - Brewery Parking Lot (139 Mill St., Creemore)
Classic Ride (60km) Start Time: 10:00am
Challenger Ride (40km) Start Time: 10:30am
Cruiser Ride (20km) Start Time: 11:30am
Start times subject to change. Cyclists will be notified as event day approaches.
All riders and bikes are welcome!
Vintage jerseys, gear & kits are encouraged! "Heroic" or vintage rides include:
Steel frames or a frame made in 1987 or earlier

Old style toe clip pedals with straps

Down tube shifters

Tubular tires
No heroic bike, no problem!
All other road worthy bikes in good working order are welcome (mountain bikes, hybrid, fat tire, etc). If you would like to show off your vintage ride, post a pic at #turasmor on social or display at our "Show & Shine" on event day as part of the Vintage Festival.
Requirements for the Ride
Helmet

19 years of age or older

Personal ID (including Health Card if possible)
Road Support
We will have bike mechanics stationed at a few stops along the routes, as well as an on-course marshal to ensure no one rides alone. However, all riders must be self-sufficient as the mechanical support is limited.
For route or technical support questions, please reach out to MultiSport Canada at (705) 797-4951 or email info@multisportcanada.com
The charming village of Creemore is nestled in a valley between the Mad and Noisy Rivers, offering a rich agricultural history and is known for its rolling hills and sweeping views to Georgian Bay, the Niagara Escarpment and neighbouring communities of Collingwood, Wasaga Beach, and more!
2019 Event Schedule
8:30am-9:30am – Registration, Creemore Springs Brewery
8:30am - 12:30pm - Creemore Farmers' Market
10am – Turas Mór Classic 60k Ride Begins
10:30am - Turas Mór Challenger 40k Ride Begins
11:30am - Turas Mór Cruiser 20k Ride Begins
10am - 5pm– Creemore Vintage Festival in downtown Creemore.
11am- 4pm - Brewery Tours, every hour on the hour
1pm-4pm - Post Ride Celebrations & Beer Garden
Would you like more information? Please contact thefolks@creemoresprings.com or call 1-844-887-3022.
We look forward to seeing you in Creemore on May 25, 2019. Registration includes participation in the event, food & drink along the route, après hospitality (food, music and two complimentary beverages) and a gift from the Brewery. Additional items such as extra lunches for non-cyclists in your party or an event t-shirt can be purchased at the time of registration. As well, vintage Turas Mór jerseys & hats will be sold event day. We look forward to seeing you in Creemore! If you have any questions - email us at thefolks@creemoresprings.com. Cheers!
Driving times to Creemore from:
Barrie via Angus and Country Road 9 – 30 minutes
Collingwood via Highway 26 and Fairgrounds Road – 20 mins
Orangeville via Highways 10 & 124, and Country Road 9 – 45 mins
Toronto via Airport Road and County Road 9 – 90 mins
Wasaga Beach via Airport Road and County Road 9 – 20 minutes
Would you like more information? Please contact thefolks@creemoresprings.com or call 1-844-887-3022